11 August 2020
Vespa Primavera Sean Wotherspoon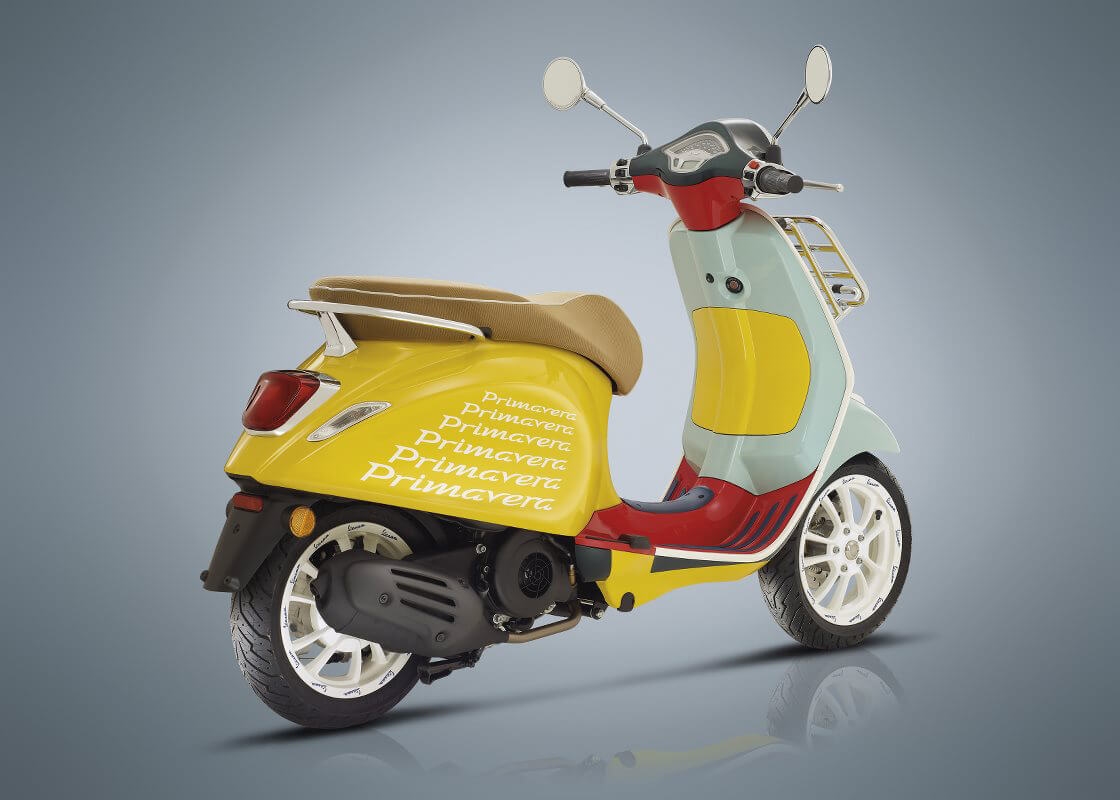 Key Features
Suede Seat
Body Decals
Matt Black Muffler Cover
Wotherspoon Logo
White Wheel Rims with Decal
White Crest
White Finish on trims
DUE SEPTEMBER 2020
Sean Wotherspoon is one of the rising stars of youth fashion in the USA. He is pure energy, endlessly curious, ahead of his time, an experimenter, and a fanatic of street culture and everything this might encompass in terms of fashion and colour.
Vespa brand and Sean Wotherspoon presents the first shining examples of a relationship that is guiding Vespa towards a new, brave, irreverent and fun style.
Vespa Primavera Sean Wotherspoon is a special and limited edition that expresses all the creative energy of both Vespa and Sean. These stars of their time are united by a love of colour and innovative experimentation that anticipates tomorrow's trends and appeals to anyone who loves to play with fashion and ride in style.
On the steel body of Vespa Primavera, Sean creates a new style for the young urban tribes, but one with a capacity to win over a much wider audience.
Sean gives Vespa style elements a vintage contemporary twist in what is his trademark manner. He does this by drawing on his love of everything old school, using a kaleidoscopic mix&match approach rooted in the '80s and '90s.
The livery of Vespa Primavera Sean Wotherspoon stands out for its explosion of Eighties-style colour, showcased with flamboyant irreverence. Yellow, red, dark green and aquamarine envelop the entire vehicle, embellished with white inserts such as the front tie, the profiling of the Vespa silhouette and the wheel rims, the edges of which feature a replication of the contrasting Vespa logo.
The design is completed with chrome finishes for the headlight frame, luggage rack and passenger handle, and black details such as the hand grips and silencer cover.
There is also scope for a blend of materials including metal, plastic, velvet and rubber. In pure Vespa tradition, the body is made of steel, a distinguishing mark of the Vespa right from its inception.
The red foot board (in the same colour as the shock absorber), in plastic and with a blue rubber insert, stands out on the metal body.
Wotherspoon has chosen a light brown ribbed velvet for the saddle. To this he has added a white finish and his distinctive logo, a real street artist's tag, placed on the front alongside the classic Vespa logo in white.
A dedicated graphic customises the rear of the body, serially repeating the name 'Primavera' for an original optical perspective.
Vespa Primavera Sean Wotherspoon is available from 2020 at a selected network of dealers in the classic 50, 125 and 150 cc engine capacities.
But Sean Wotherspoon's work extends beyond the Vespa Primavera.
Together with the dedicated helmet, he has created a capsule collection of streetwear clothing, consisting of four T-shirts and a modern tracksuit.
The capsule partly retains the vivid colours of the Vespa Primavera Sean Wotherspoon, but also complements specific Vespa world style traits with a reinterpretation of the famous logo accompanied by Sean's signature.
Vespa heritage becomes even more cool and unique with T-shirts featuring technical drawings with a 'casual fashion' edit reminiscent of modern infographics found on the internet or in avant-garde magazines.
The same vintage mood also inspires the tracksuit, composed of a sweatshirt and trousers in technical fabric and featuring a prominent black-on-white stylisation of mechanical Vespa details, while also echoing the visual amplification of the Vespa logo.
There are also two T-shirts for lovers of iconic simplicity. The first combines the two logos of the style partners - Vespa and Sean Wotherspoon - in contrasting colours, while the second updates a sketch of a historic Vespa Primavera, highlighting the parts with bright touches of colour.
Sean Wotherspoon
It was 2013 when Sean and two friends opened Round Two in Richmond in Virginia, a store that was set to become legendary in a matter of months. Round Two stores can now be found in all major US cities. A passion for the sneakers and sportswear of recent decades, a love for the creativity and colour that characterised the 80s and 90s, and a revolutionary and irrepressible creative verve have led to global success for Sean, who has collaborated first with Nike and, later, with big names such as Disney, Prince, Lacoste and Galleries Lafayette.
Vespa
In 1946, Vespa made its début on the roads of a Europe devastated by the recent conflict but, equally, full of creativity and a desire for renewal. 73 years on, and having produced more than 18 million units, Vespa is a global benchmark for style, elegance and technology. A brand known and loved across the world that, with more than 1.5 million vehicles produced in the last decade, is experiencing one of the most successful and dynamic periods in its history.