20 February 2022
New Vespa Sprint S with TFT
Reserve yours today @ Racecourse Motors.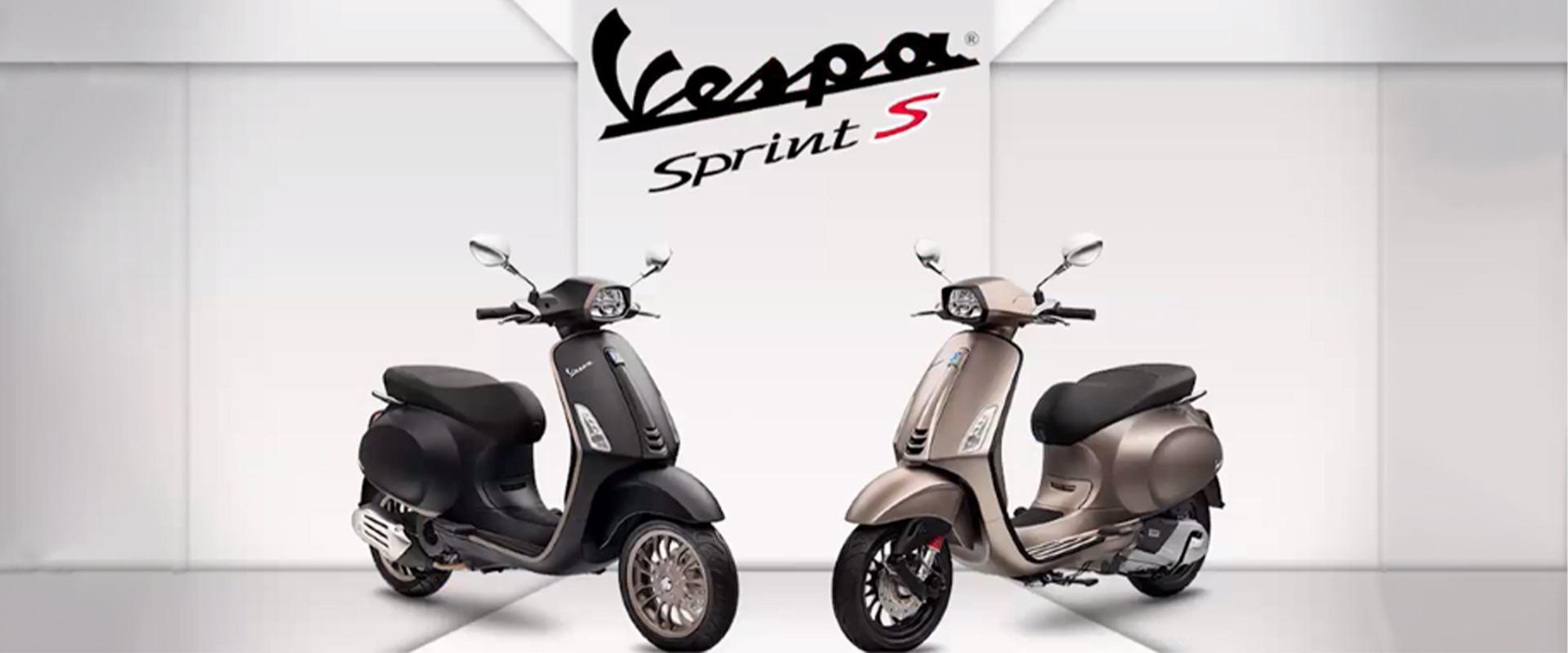 The new Vespa Sprint S with TFT dashboard is designed to elevate your lavish lifestyle. The irresistibly rare beauty with two eye-catching colours and connectivity conveys emotions in motion, creates extras in your everyday life experiences: extra fabulous, extra stylish, extra sophisticated and extraordinary
Go all-in for lavish and eye-catching aesthetics, with the most cutting-edge Vespa Sprint ever! Vespa Sprint S with TFT dashboard is the elevated icon of dynamic and sophisticated design, mixing a fashionable attitude with connectivity features. Its progressive outfit is composed by dedicated styling elements like the exclusive bronze colour and the saddle design which mix perfectly with the TFT system. Efficiency and utility have never been so lavish and progressive before. Throughout history, Vespa has showcased its ability to keep up with trends designing vehicles that not only move people, but also their emotion. With the new Vespa Sprint S with TFT, this signature element is designed to meet the needs of the modern world shapers. This Vespa is made for all those looking for a truly elevated icon of design & cutting-edge exclusivity to match their vision of a dynamic modern world, those that enjoy being fashion-forward, eye-catching and progressive in every movement; those that don't want to sit back and settle for what they already have and are always looking upwards and forwards.
Vespa Sprint S is the answer for all the values that they are seeking for: extravagant and eye-opening aesthetics with added connectivity, exclusive for dynamic lifestyle. The Italian Vespa Design Centre has defined the exclusive colour combination with contrasting and mirrored element to create two different outfits that match the same fashion forward and forward-looking soul while keeping the Italian DNA unchanged. The lavish Bronzo Antico steel body presents a precious futuristic theme to be admired daily, enhanced by the contrasting black finishing that adds more exclusivity to this upfront combination. Its complementary is a hyper sophisticated Nero Opaco with bronze finishing; a high note for those who appreciate the beauty of the modernity. The diamond-shaped saddle design adds a major touch of luxury to the bike, a fashion statement in motion. The TFT (Thin-Films Transistors) screen on top of the successful Vespa Sprint, is the icing on the cake for the Vespa range, bringing users the ultimate experience with enhanced connectivity to the smartphone with the VESPA MIA system (The product specifications of the connectivity system may vary market-by-market due to local availability).
Vespa Sprint S has a contemporary style that speaks louder than any word. It is for the classy people who desire the modern way of travelling Vespa brings, combining bold attitude and connectivity, versatility and unicity. Vespa Sprint S with TFT dashboard turns vision into motion, and trend into movement. It's the cutting-edge scooter designed to elevate the style of its rider, to thrive under the spotlight, to savour the limelight and to become irresistible.